Ensemble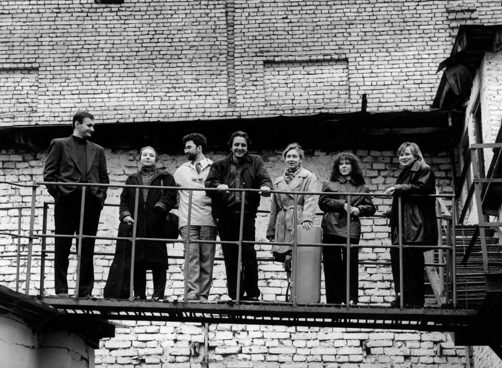 Crée en 1993 par le compositeur Vladimir Tarnopolski et le chef d'orchestre Igor Dronov, le Studio for Music Ensemble, orchestre résident au Conservatoire de Moscou, est aujourd'hui le principal ensemble russe de musique contemporaine. Présentant chaque année une trentaine de programmes musicaux à Moscou et dans le reste du pays, acteur incontournable du Festival de musique contemporaine de Moscou, il est également convié à se produire dans le cadre de nombreux festivals occidentaux et dans des lieux prestigieux tels que le Berliner Philarmonic, le Paradiso d'Amsterdam, le Konzerthaus de Berlin, le Jacqueline du Pre Concert Hall d'Oxford, le Deutschlandfunk de Cologne, le Schoenberg Center de Vienne, le Hellerau de Dresde…
Le Studio for Music Ensemble a ainsi joué notamment en Autriche, Belgique, République Tchèque, Angleterre, Estonie, Pologne, Finlande, France, Portugal, en Ouzbekistan et aux Etats-Unis. Il a par ailleurs participé à des ateliers organisés respectivement par les universités de Harvard, Boston et Oxford.
Le Studio for Music Ensemble se consacre a` un vaste répertoire puisé dans la musique du XXème siècle, tout en s'intéressant plus particulièrement aux pièces de l'avant-garde russe des années 20 et aux oeuvres écrites spécialement pour l'orchestre par des compositeurs contemporains.
Il a crée 150 oeuvres écrites par des compositeurs russes et étrangers. On notera à son actif l'interprétation en première mondiale de la Symphonie n° 2 pour orchestre de chambre de Nikolai Roslavets, dont la partition, datant de 1934, n'a été exhumée que très récemment. Il a également joué le Requiem de Heuze pour la première fois en Russie. Dans le cadre de ses collaborations avec les grands ensembles étrangers, il a également été le premier à présenter en Russie des oeuvres d'Andriessen, Lachenmann, Ligeti et biens d'autres.
L'ensemble a par ailleurs crée 60 programmes dressant chacun le portrait des principaux compositeurs contemporains.
En 2002/2003, avec le soutien du Ernst-von-Siemens Musikstiftung, l'ensemble a proposé un cycle de 17 programmes sur le thème "Russie Allemagne : chapitres du XXème siècle". Il a présenté également en 2005-2007, "EinKlang" , une anthologie de l'avant garde musicale du XXe siècle dans les régions russes, avec le soutien du Kulturstiftung des Bundes and Ernstvon-Siemens Musikstiftung.
Stanislav Malishev, Marina Rubinstein violon, 
Ekaterina Markova alto, Olga Galochkina violoncelle
,
Anton Krylov contrebasse,
Nikita Agafonov, Alexey Mikhailenko clarinette, 

Anastasia Lesovichenko hautbois
, Stanislav Katenin basson,
Stanislav Davydov cor
, Nikolay Kamenev trompette,
Dmitry Sharov trombone, 
Alexander Gruzdev Tuba,

Dmitry Schyolkin, Andrey Nikitin percussion,

Mona Khaba, Natalia Cherkasova Piano
,
Anastasia Alferova harpe
Ensemble-in-residence at the Moscow Tchaikovsky Conservatory
The Studio for New Music (SNM) is the leading contemporary music group in Russia. The ensemble was founded by composer Vladimir Tarnopolski and conductor Igor Dronov in 1993. Their first concert was given in France with Mstislav Rostropovich as conductor. Every year the ensemble performs about 30 programs in Moscow and throughout the country, and is a frequent guest in many Western contemporary music festivals. SNM has performed in the halls of the Berliner Philharmonic, Paradiso Amsterdam, Konzerthaus Berlin, Jacqueline du Pre Concert Hall Oxford, Deutschlandfunk Koeln, Schoenberg Center Vienna, and Hellerau Dresden among others. They have been involved in workshops, including Oxford University, Harvard and Boston University. The ensemble has given many concerts in Austria, Belgium, Czechia, England, Estonia, Finland, France, Poland, Portugal , USA, Uzbekistan, and other countries.
SNM has premiered about 150 compositions of Russians and foreign composers. One of the most important events was the world premiere of the Chamber Symphony No. 2 by Nikolai Roslavets (composed 1934) which was recently found in an archive. In association with Ensemble Modern, «Studio» also performed the Russian premiere of Requiem by Henze. In this way it cooperates with other leading foreign ensembles, performing the Russian premieres of pieces by Andriessen, Lachenmann, Ligeti and many others. SNM has presented about 60 concert-portraits of the leading contemporary composers.
Among its vast repertoire, special attention is given to the Russian Avant-garde of the 1920's as well as compositions by contemporary composers written especially for the group.
SNM has won status as the ensemble-in-residence at the Moscow Conservatory. It is the core ensemble for the «Moscow Forum» Festival of contemporary music. In 2002-2003, the ensemble received a special grant from the Ernst-von-Siemens Musikstiftung for a cycle of concerts «Russia-Germany: chapters of the 20th century», which included a total of 17 programs. In 2005-2007 SNM presented a three-year cycle entitled «EinKlang. Anthology of the Musical Avant-garde of the XX century in the Russian regions». This project has won a special grant from the Kulturstiftung des Bundes and Ernst-von-Siemens Musikstiftung.
Pour en savoir plus
http://www.ccmm.ru/en/index.php?page=studio∂=about